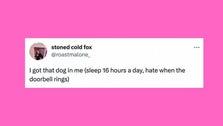 Wow, it's been a long week.
If you feel like you've been working like a dog, let us bring you the Internet equivalent of a lot of catnip: funny pet tweets.
Every week at HuffPost, we scour Twitter to find the funniest posts about our completely goofy furballs. They are sure to make you howl.
(And if you want more, you don't have to beg; you can check out last week's batch directly.) here.)

03357
49925
25473
27879
83303
13655
46357
21965
74796
88620
37524
17919
64679
13217
36285
BASTAIOPP
BASTAIOPP
BASTAIOPP
BASTAIOPP
BASTAIOPP
BASTAIOPP
BASTAIOPP
BASTAIOPP
BASTAIOPP
BASTAIOPP
BASTAIOPP
BASTAIOPP
BASTAIOPP
BASTAIOPP
BASTAIOPP
BASTAIOPP
BASTAIOPP
BASTAIOPP
BASTAIOPP
BASTAIOPP