Birria is starting to take over the fast food landscape and we're 100% here for it! If you don't know what birria is, you need to remedy that sh*t ASAP (if it's your first time, don't opt for the fast food version, ask your friends to point you to the nearest place that serves the real thing). For the uninitiated, we're talking about a dish that is so visually appetizing you can taste it with your eyes. And it tastes even better than it looks.
El Pollo Loco was the first big chain to take on birria and while our expectations were perhaps too high the first time around, after making a few changes the chain redeemed itself this spring when the birria menu returned and leveled up. Then Taco Bell followed suit and while, again, it didn't capture the magic of real authentic birra, it was still a pretty good fast food version of the dish.
Now Del Taco is joining the fold with a new birra menu that includes shredded beef tacos, a shredded beef birra quesadilla, and perhaps most interesting of all… birra ramen.
So did Del Taco nail birria? We found out by trying each dish. Here is how they rank from our least favorite to favorite.
3. Birria Ramen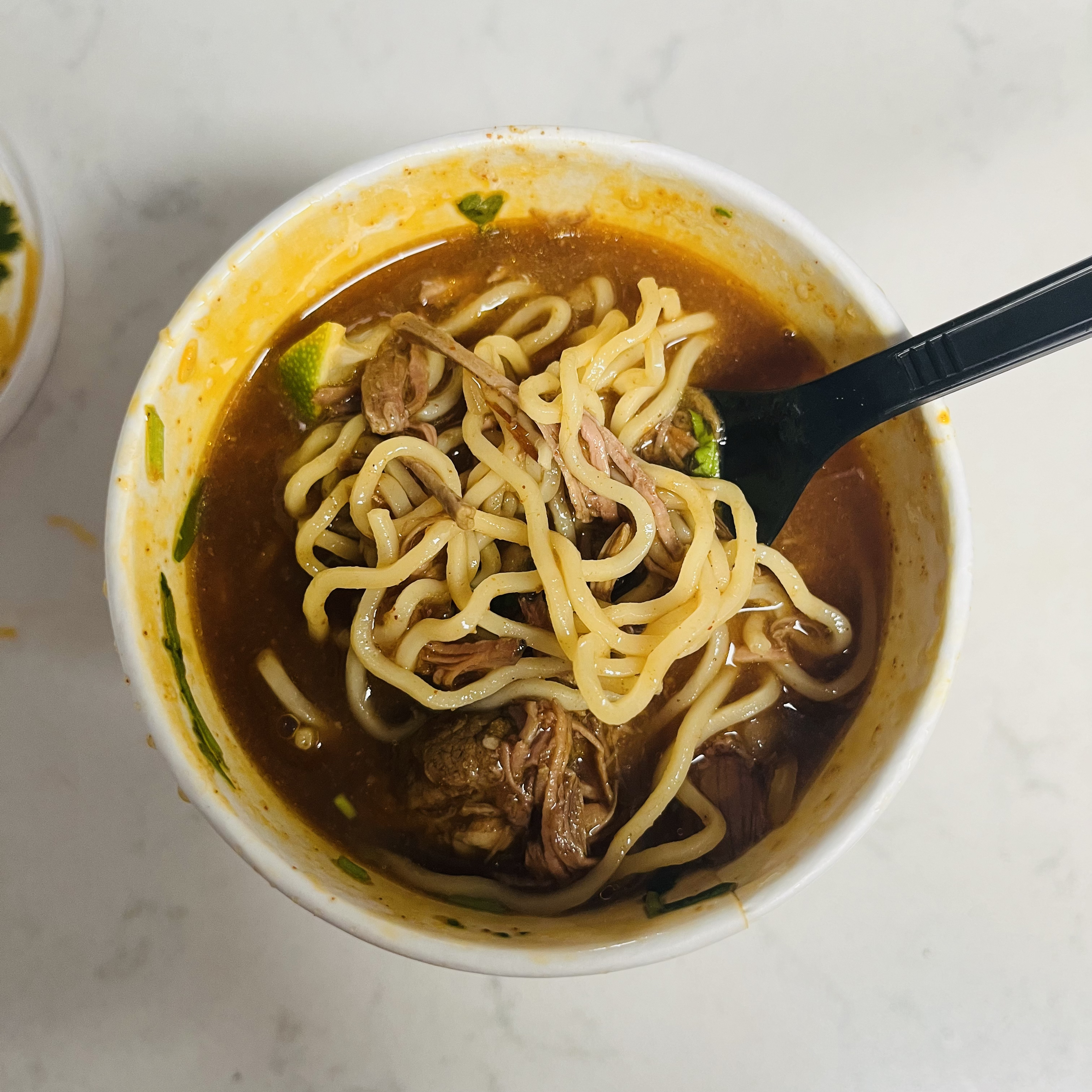 Tasting Notes & Thoughts:
When I first saw this dish I was a bit horrified. "Why?" I asked myself, but it took just a few seconds of thinking about it to realize this was actually a great idea. Birria consomé is a great thing to steep noodles in and with some cilantro, onion, and shredded beef, you have an elevated version of classic Cup Noodles.
The consomé tastes great, it has a chili-forward flavor that is savory and luxurious with a hint of sweetness. The shredded beef is also a winner, it's tender and beefy and melts in your mouth. Unfortunately, the weak aspect of this dish is the noodles.
I think the issue is that Del Taco's birra consomé isn't hot enough to properly cook noodles. The noodles weren't as soft and luxurious as they needed to be to properly soak up the flavors. I think this is an easy fix though, all Del Taco needs to do is steep these noodles in boiling water, strain them, and then add the birria consomé.
The Bottom Line:
A great idea that isn't executed as well as it needs to be, but still tasty regardless. Also, how could a Mexican fast food restaurant miss on adding cheese a la David Chang.
Birria Shredded Beef Tacos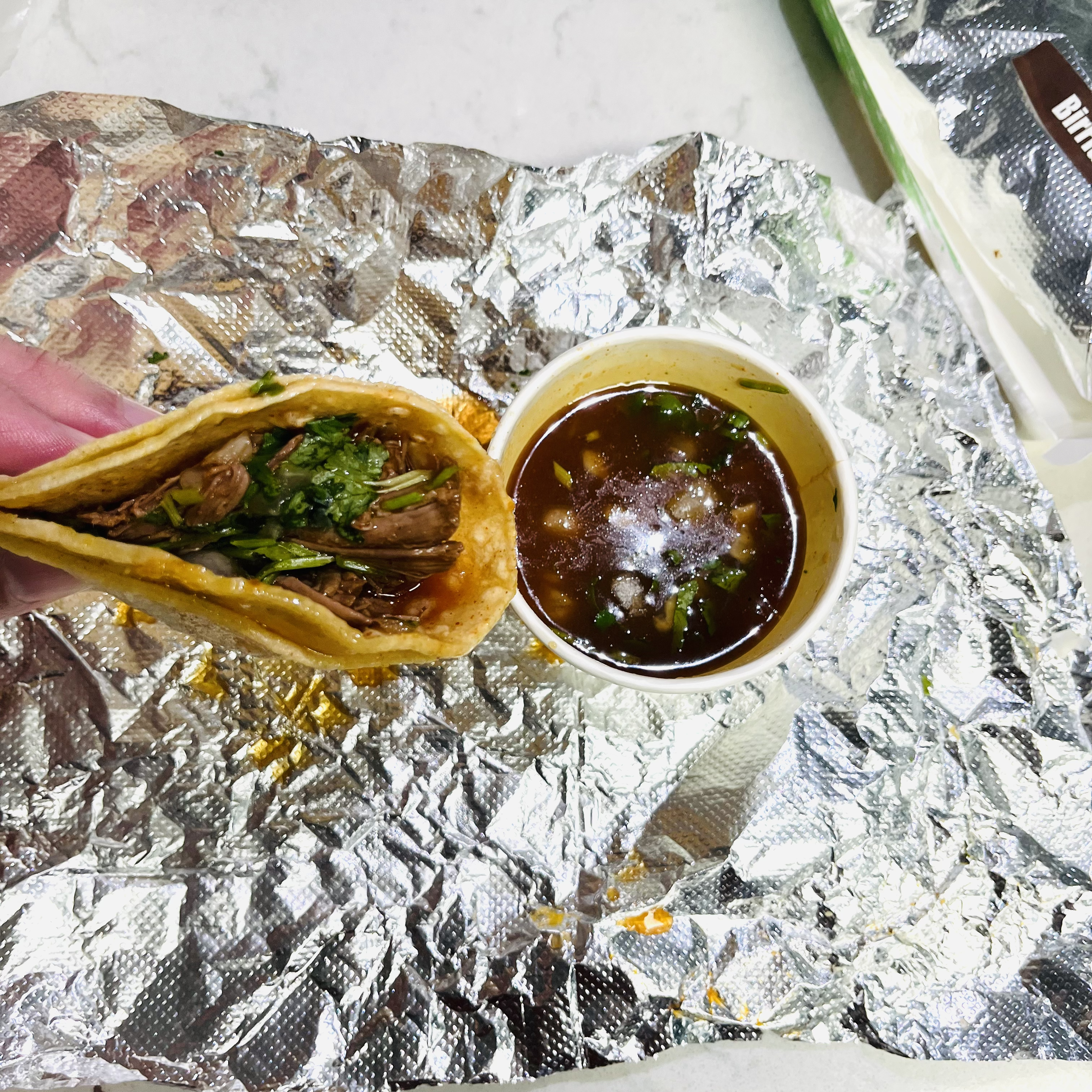 Tasting Notes & Thoughts:
The way this dish works puts into perspective just how superior Del Taco is to Taco Bell. The double tortillas have a great corn flavor and texture, the fresh cheddar is nutty with a hint of salt — everything works together to highlight the flavor of the beef, which is generously portioned in these tacos.
Even without the birra consomé, this is a great taco — dipping it just elevates it that much more.
The Bottom Line:
Del Taco's shredded beef dunks on every protein option at Taco Bell. This is a great taco and that's before you dip it into the birria.
Shredded Beef Birria Quesadilla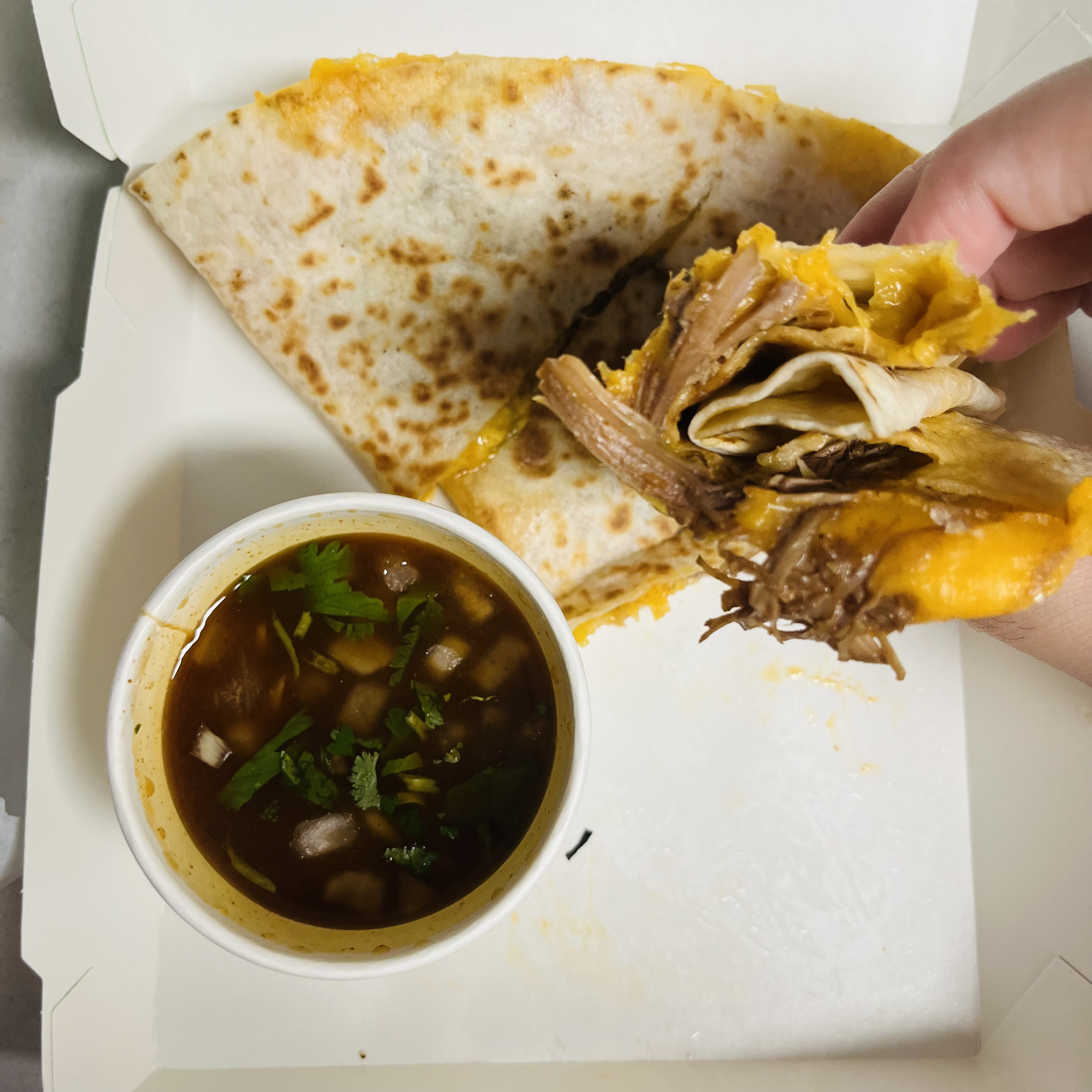 Tasting Notes & Thoughts:
This was the winner for me. Considering the best part of the new birria menu is this shredded beef, this dish puts the focus on that savory meaty flavor. Inside the quesadilla is a thick portion of shredded beef with tangy and very mild green sauce, and a whole lot of cheddar cheese wrapped in a flour tortilla and flat top grilled (compare this to Taco Bell, which doesn't have a grill at all).
The consomé shines here as well, absorbing perfectly into the flour tortilla and the crevices of the quesadilla, leading to an explosion of savory, beefy, chili-backed flavor with every bite. I can't emphasize this enough, the fact that Del Taco shreds its cheese in-house makes a difference. It's significantly better than every other Mexican-inspired fast food chain's cheese, even Chipotle, whose cheese never gets hot enough to melt (except for in the quesadilla).
In a perfect world, Del Taco would dip the entire quesadilla in birria consomé before grilling it, but that would probably result in a mess that just doesn't work in the drive-thru.
The Bottom Line:
You need to order Del Taco's Shredded Beef Birria Quesadilla immediately! It's one of the best dishes in fast food.
Find your nearest Del Taco here.
99551
34397
93588
64914
35412
32444
21079
26244
21651
34569
05533
61731
90978
27001
23054
32769
53976
56341
12857
41418
14857
08068
29663
56968
76502
04228
27348
41397
68318
24620
28689
05142
73035
47834
29535