I've experienced my share of delicious international cuisine; traveling to eat well leads nowhere. But it was the bars serving libations with a strong sense of place that left an indelible mark on my memories. While the concept is similar to food travel – trying something special where people know it best or execute it at the highest level – seeking out amazing bars on the road is fully the wave I'm on right now . And with different regions of the world specializing in specific categories of spirits and even certain ingredients, it's a great way to evolve your palate and acquire a delicious souvenir.
Much of travel these days is about seeing a city through the lens of a local, especially for Gen Z and millennials. The proof is in the numbers. American Express Travel's 2023 Global Travel Trends Report mentions that 79% of Gen Z and Millennial respondents agree that they "would love to participate in a day in the life of the locals in the destination they are visiting ". And to live like a local, you have to drink like a local, which means frequenting the hippest or most underrated bars in the area.
"Cocktail tourism is huge now and we think it's going to be huge," says Dave Dove, founder of Global Bartending and co-founder of The Pinnacle Guide, which highlights bars around the world. "While dining at a high-end restaurant might set you back a few hundred dollars, having a cocktail at one of the world's best bars is just a fraction of that—a truly affordable luxury.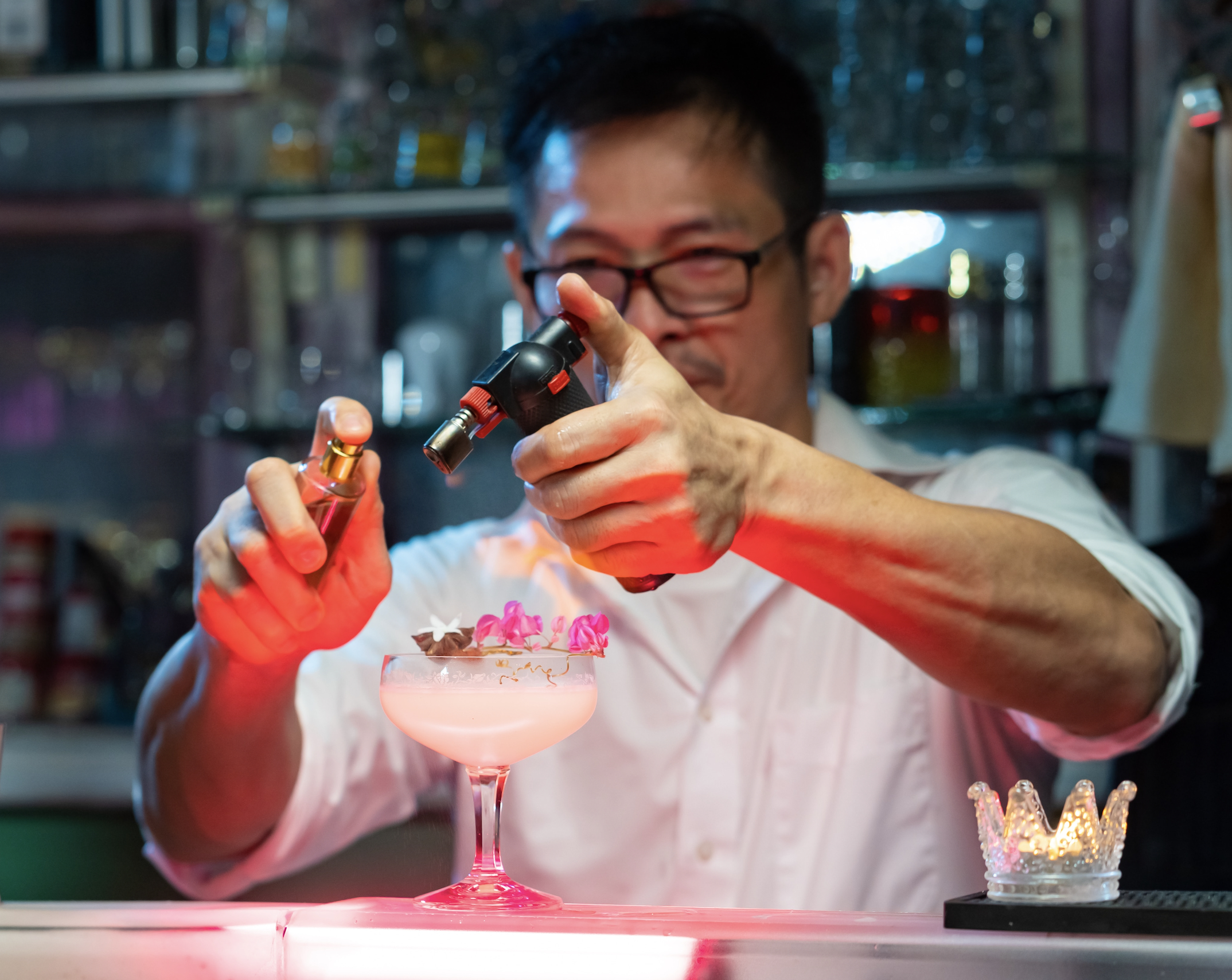 Kristy Hanft, founder of Austin-based luxury travel agency Flaneur Travel Co., attests to the appeal of traveling simply to hit a hotel's acclaimed bar. She has found that many of her clients are increasingly interested in what she calls "the destination is the hotel." Bars surely play an important role in this phenomenon. As a local to the Austin, Texas area, I drove two hours to stay at the luxurious Emma Hotel in San Antonio to experience Sternewirth, their tavern and clubroom. I was excited to enjoy their impressive bar offering without even needing to leave the hotel.
Hotels are rising to the occasion by creating amazing bars (or bringing in amazing bar teams to create an in-house offering). The destination is definitely the Six Senses Hotel in Gulhi, Maldives. The hotel is home to the Chill Bar, built above the ocean just meters from a coral reef.
"The Chill Bar is passionate about using local ingredients," notes Hanft. "Fruit and herbs from the region. They have their own herb garden to use for all cocktails.
One of their signature cocktails uses gin, a blend of coconut and turmeric, and coriander leaves, all made with local ingredients.
"The Maldives are known for their beauty," she continues. "And you sip a cocktail with herbs they pick from their garden."
Curious travelers who let themselves be guided by the bars benefit from local information on other watered dens that they can visit.
"Sit at the bar, then ask the bartender for their best tips on cocktail bars or places they like to hang out for good drinks and a great atmosphere," says Siobhan Payne, co-founder of The Pinnacle Guide. "Those who have the scoop are those who work on the ground. Bartenders are often a close-knit community of people who are always eager to recommend each other's bars!
As for the future of bar and cocktail tourism, Hanft says, "It's not going anywhere. It will just be embedded in itineraries forever.
As a traveler and lover of good bars around the world and close to home, I couldn't agree more.
Need some inspiration on which bar you should visit first? Discover three recommendations from beverage and travel professionals below!
MEXICO CITY, MEXICO
"The bar scene is going from strength to strength, with fantastic bars opening all the time. The city is something of a travel hub in Mexico, which means there are lots of traveling bartenders and plenty of international bar takeovers, which inspires some brilliant creativity. We also love the architecture, which really lends itself to beautiful bar setups. – Hannah Sharman-Cox, co-founder of The Pinnacle Guide
PARIS, FRANCE
"A bar that I love in Paris is called Bar Joséphine at the Hôtel Lutetia. It is named after Josephine Baker because she was staying at this hotel at the time. It's an old Art Deco hotel. During the restoration of the bar, they found these frescoes under six layers of paint, and it took them 17,000 hours to uncover and restore them. It's a beautiful place. This is where you can be seen during Fashion Week. Joséphine Baker said that her two loves were my country and Paris. Thus, their signature cocktail is J'ai Deux Amours ("My two loves") composed of Belvédère Vodka, barbecue sauce, smoked essence and clarified mango. – Kristy Hanft, founder of Flaneur Travel Co.
MANILA, PHILLIPPINES
"I think Manila is underrated. Their hospitality is incredible, seriously. They are super authentic and very welcoming. I always have a good time when I go there. Two of my favorites are Oto, for their incredible all-vinyl playlist and great hospitality, and Spirits Library, for their incredible selection. – Desiree Jane, co-founder of the award-winning Singapore-based bar Sago House
HOW TO FIND OUT IF SOMEONE HAS AN ONLYFA
BINGO BLITZ CREDITS JULY 5 LINKS GAMEZEB
TIKTOK COINS FOR FREE 2023
PSN GIFT CARD GENERATOR UK
EASIEST FASTEST WAY OF GETTING VC WITHOU
FREE PSN GIFT CARD CODES 2023
free paypal money generator no human ver
TIKTOK COIN GENERATOR IS IT WORTH IT ONL
nba 2k23 locker codes 2023 free vc playe
100 FREE ONLYFANS PREMIUM ACCOUNTS WITH
free paypal money instantly without huma
15 FREE ONLYFANS ACCOUNTS LOGIN WORKING
FREE AMAZON GIFT CARD PROMO CODE
PSN GIFT CARD CODES GENERATOR
HOW TO GET FREE TIKTOK COINS IOS ANDROID
FREE ONLYFANS ACCOUNTS 2023 SHARED ACCOU
COIN MASTER FREE SPINS LINK TODAY NEW 20
BINGO BLITZ CREDITS FOR FREE
pet master rewards daily links 2023 pet
BINGO BLITZ FREE CREDITS HACK
nba 2k23 locker codes for january here s
FREE $10 PSN CODE FROM SONY
free pet master spins nix beta repl repl
nba 2k23 active locker codes for 2023
BINGO BLITZ FREE CREDITS DAILY GIFTS LIN
HOW TO GET FREE COINS ON TIKTOK WITHOUT
GET POLICY ONLYFANS BYPASS HACK 2023 FRE
unlimited codes free paypal gift cards g
HOW TO GET FREE TIKTOK COINS WITHOUT HUM
free spins coin master 2023 unlimited
FREE AMAZON GIFT CARD IS IT REAL