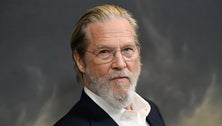 The "Old Man" star, who was diagnosed with non-Hodgkin lymphoma in October 2020, was undergo chemotherapy when he contracted the coronavirus, and the 73-year-old is candid about how one affected the other.
"I got this letter from the chemo site letting me know that I had contracted COVID," Bridges told AARP magazine in an interview published Tuesday. "I had no immune system left to fight it. The chemotherapy had eliminated that, which made it very, very difficult."
"For me," he continued, "cancer was nothing compared to COVID."
Bridges had COVID while also dealing with a 9-by-12-inch tumor on his body. The actor told AARP that he contemplated his own death at the time and was convinced he would never work again, until recovery took him from "we'll see" to "maybe."
Ultimately, it was his wife, Susan Gaston, who helped him recover.
"My wife Sue was my absolute champion," Bridges told the outlet about her partner of more than 45 years. "She really fought to keep me away from a fan. She didn't want to be in it, and the doctors didn't necessarily want that. But Sue stood her ground."
"A lot of getting better was a matter of setting really small goals," he told the outlet.
"At first, they were like, 'How long can you stand?' For a while, my record was 45 seconds before collapsing," she continued. "And then they'd say, 'Oh look, you're on your feet for a minute! That's so cool. Now can you walk 5 feet?'"
Bridges contracted COVID-19 for the second time last year, but said "It wasn't as bad as the first time." The actor, who was hospitalized during production of the first season of "The Old Man," is ready to start filming the second, and he couldn't be happier.
"Doing what you do invigorates you and makes you feel great," he told AARP. "And I'm so blessed to have this cast…you know, that also fueled my health, I think."

75374
28035
76280
03989
62055
58778
59369
13139
91382
43947
17934
24941
62611
19722
94355
08353
50940
94912
06287
08791
00415
58560
25772
83311
66643
10468
45246
28151
36348
10716