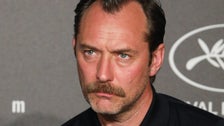 jewish law has confessed to stinking up the set of his new movie, "Firebrand."
The English actor wanted to get fully into character as Britain's King Henry VIII in the film about his relationship with Catherine Parr, the last of his six wives, and hired a perfumer to recreate the monarch's acrid scent.
"I read several interesting accounts that in this period you could smell Henry from three rooms away. His leg was rotting so bad. He hid it with rose oil," Law told reporters at the Cannes Film Festival on Monday.
"I thought it would have a big impact if it smelled horrible," Law explained.
The perfumer "somehow managed to find this extraordinary variety that was pus, blood, fecal matter, and sweat," Law recalled.
At first, Law said that he used the scent "very subtly."
But then it "turned into a spray fest" when he got completely drenched in the stench before filming.
"When Jude walked on set it was just horrible," admitted "Firebrand" director Karim Aïnouz, reported. Variety.

NEWHIYAH
NEWHIYAH
NEWHIYAH
NEWHIYAH
NEWHIYAH
NEWHIYAH
NEWHIYAH
NEWHIYAH
NEWHIYAH
NEWHIYAH
NEWHIYAH
NEWHIYAH
NEWHIYAH
NEWHIYAH
NEWHIYAH
NEWHIYAH
NEWHIYAH
NEWHIYAH
NEWHIYAH
NEWHIYAH
NEWHIYAH
NEWHIYAH
NEWHIYAH
NEWHIYAH
NEWHIYAH
NEWHIYAH
NEWHIYAH
NEWHIYAH
NEWHIYAH
NEWHIYAH