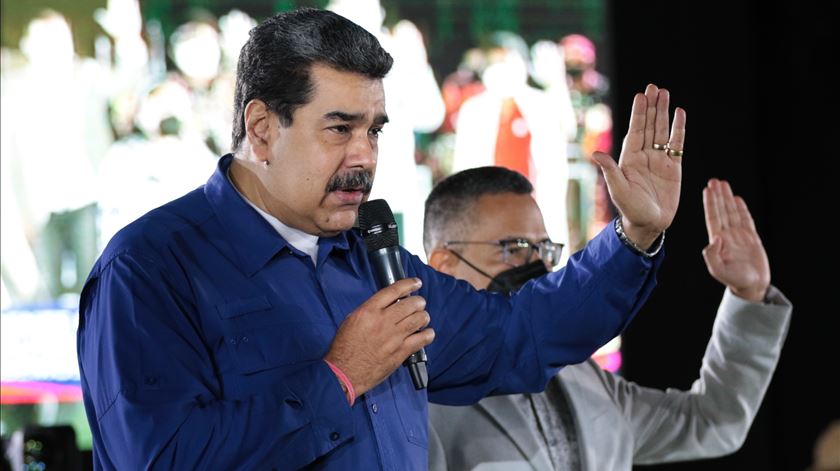 The President of Brazil confirmed that Nicolás Maduro canceled the bilateral meeting scheduled for this Monday, that he may not travel to Argentina for the Latin American summit and that no one should meddle in the affairs of Venezuela or Cuba.
"I had a meeting at 4 pm today [19:00 em Lisboa]but I was informed that maybe he [Nicolás Maduro] do not come. It will then be elsewhere. Maybe at the next (summit), Maduro will come?", lamented Luiz Inácio Lula da Silva, during a press conference at Casa Rosada, seat of the Argentine Government.
Lula da Silva was speaking alongside the Argentine President, Alberto Fernández, after a bilateral meeting in which the two governments signed six documents, including agreements, memoranda and declarations.
The two Presidents were questioned whether they would take advantage of the summit of the Community of Latin American and Caribbean States (CELAC), which takes place on Tuesday in Buenos Aires, to seek a democratic solution for both Venezuela and Cuba.
"I hope that Venezuela and Cuba do what they want and we don't have to interfere", replied Lula da Silva, after defending the "self-determination of peoples", based on the example of the war in Ukraine.
For the Brazilian President, "the self-determination of peoples must be respected among countries".
"Just as I am against the Russian invasion of Ukraine, I am against interference in Venezuela's affairs", he compared, criticizing the policy of pressure through blockades, economic sanctions and invasions.
"Let's settle [a questão na Venezuela e em Cuba] with dialogue and not with blockades or the threat of invasion or personal threats. I want for Venezuela what I want for my country: respect and self-determination for peoples. Every time I have to criticize a companion, instead of criticizing him, I'll give advice. Venezuela will be treated as all countries deserve to be treated", defended Lula da Silva.
Brazil and Venezuela are close to reestablishing diplomatic relations with the reopening of the Brazilian Embassy in Caracas, after the rupture during the government of Jair Bolsonaro. The matter would be dealt with personally between Lula da Silva and Nicolás Maduro.
"We are going to restore relations with Venezuela and establish a civilized relationship between two independent nations. And that the Venezuelan people who are outside Venezuela can return to Venezuela. Brazil has an important role to play in that", indicated Lula da Silva.
The political opposition in Argentina, based on the testimonies of Venezuelans exiled in the country, filed criminal charges against Nicolás Maduro. In recent days, Argentina's center-right political leaders have pressured the courts to issue arrest warrants for Maduro in Argentine territory.
Lula da Silva confirmed that the bilateral meeting with Cuba's Miguel Díaz-Cané is continuing as scheduled for Tuesday afternoon, at the end of the CELAC summit.
"It seems to me that Cuba is coming," said Lula da Silva, defending the role of CELAC, the only regional forum in which Cuba participates.
The Community of Latin American and Caribbean States was created in 2010 by the then President of Venezuela, Hugo Chávez, and by Lula da Silva himself, during his second term in office. The objective was to isolate the United States, which exercised control over the Organization of American States (OAS).
"CELAC is an extraordinary space for resolving conflicts. I am proud to have participated in the construction of this forum and I am proud that Cubans participate. I hope that soon Cuba will be able to return to the process of normality and that the blockade of Cuba will end without any need. They (Cubans) don't want another country's model. They want their model and what do we have to do with that?", questioned Lula da Silva.
The head of state defended that "Brazil and the CELAC countries should treat Venezuela and Cuba with great care".
"If I can, I will be a peace builder. I learned in my political life that the more we talk, the more chances we have of agreement. People forget that they (opponents of the Maduro regime) did abominable things for democracy: they recognized a type who was not a candidate for president and who ended up exercising the role of president without being president", criticized Lula da Silva, referring to Juan Guaidó.
​100 updated instagram free online followers generator 2023
may nba 2k22 locker codes
25 BEST WAYS TO GET FREE PAYPAL MONEY ONLINE IN 2022
pet master free spins and coins 2023 hack generator
legit free psn codes
spotify premium free subscription membership plans for 4 months
stumble guys flying hack
free tiktok coins tool
free walmart gift card number and pin 2023
Working at [NEW-UPDATED] BIGO Live Unlimited Diamonds [MQ]
bingo blitz free credits july 2023
free nintendo eshop gift card codes generator
free instagram followers without login services app all smo tools
nba2k22 double xp locker codes
1 STUNNING METRIC THAT MAKES PAYPAL STOCK A SCREAMING BUY
pet master free spins links 2023
get free psn codes 2023
how to get free 3 months spotify premium subscription 2023
lᐈ How to Get Free Gems in Stumble Guys 2023
free tiktok coin generator 2023 no human verification
how can i get a free walmart gift card
FREE BIGO LIVE DIAMOND HACK & BEAN GENERATOR [Unlimited][MQ]
bingo blitz free credits keyboard
nintendo 3ds qr codes eshop free
how to get your first 1000 instagram followers later
nba 2k22 locker codes that don't expire 2022
FREE PAYPAL GIFT CARD GENERATOR CODES 2023 KNOT ATLAS
pet master free spins and daily links 2023
ps4 generator code
spotify premium free subscription membership plans for 4 months
WORKING UPDATED Stumble Guys Gems Generator Unlimited
get free coins for your tiktok
walmart gift card zero balance
bingo blitz free credits xavier