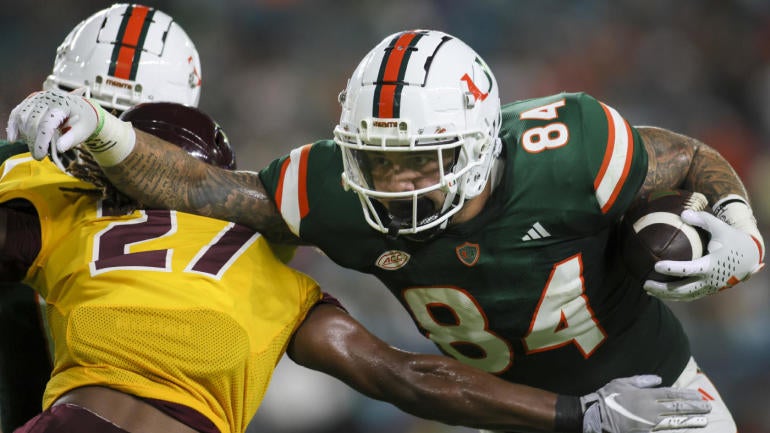 USATSI
Miami difficult ending Cam McCormick filed a petition with the ACC on Tuesday in hopes of receiving a ninth year of eligibility in 2024. The 25-year-old began his college career at Oregon and spent seven years in the Ducks program. The request had been previously approved by the Pac-12 before his move to Miami.
McCormick is currently tied with Northern Illinois' Kyle Pugh for the longest tenure in college football in FBS history. No player has ever been granted nine seasons of eligibility.
McCormick redshirted his true freshman season at Oregon and then earned significant playing time in his second year on campus. He would suffer a broken ankle during his redshirt sophomore campaign that required multiple surgeries, sidelining him for nearly three years.
McCormick returned to the field last year, playing in all 13 games for the first time in his career. He caught 10 passes for 66 yards and three touchdowns, including a crucial score in the Ducks' win at Ohio State. His career totals include 20 receptions for 197 yards and four touchdowns.
McCormick says his extended tenure at the university is not a daily topic of conversation.
"On the field you're in your own zone," McCormick he told 247Sports. "At the end of the day, we just play football. I think it comes up outside of football. It just depends, like, 'Oh, hey, I read about your story.' But it's really no big deal. People don't really [bring it up]apart from people who don't know the story."
No. 20 Miami is in the midst of a 3-0 start in Mario Cristobal's second season with the school. Hurricanes travel to face Temple on Saturday.