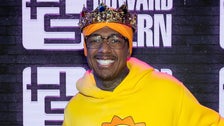 nick cannon He hasn't been one to be shy about opening up about his life as a father of 12 children, and now, he's opening up about which of his kids he's closest to.
While recently appearing on "The Jason Lee Podcast", the comedian shared that his 8-month-old daughter, Onyx Ice Cole, is "probably the girl I spend the most time with".
Cannon welcomed the adorable baby girl with model LaNisha Cole in September.
"I'm with her at least three times a week throughout the day," the 42-year-old explained to host Jason Lee during the May 10 episode. "But I don't post it on social media…it's not for them."
The "Wild 'n Out" host added that he and Cole "have a very strong understanding" and their "co-parenting operation is very strong."
Sharing how he balances work life and parenthood, he revealed that he has a nursery for Onyx connected to his office so that he can "make sure that [he] I can spend most of the time with her."
"If they see me on Monday, Wednesday or Friday, my daughter is by my side, whether she's on set," she said.
"Not against all my other kids, because all my other kids are in school, they're babies, just like Onyx," Cannon, who is the father of 12 children with six women, he clarified. "I appreciate that LaNisha gives me enough respect to allow me to have [Onyx] the same amount of time as her.
Cannon also shares 12-year-old twins Monroe and Moroccan with Mariah Carey; 6-year-old Golden Sagon, 2-year-old Powerful and 4-month-old Rise with Brittany Bell; 7-month-old Legendary with Bre Tiesi and 2-month-old Halo with Alyssa Scott, as well as a son, Zen, who died of brain cancer in 2021 at the age of 5 months.
The comments from the "Drumline" star come weeks after he was criticized on social media for forgetting to mention Onyx while naming all of his children during an interview on "The Howard Stern Show."

[HAPPY DAY]
[HAPPY DAY]
[HAPPY DAY]
[HAPPY DAY]
[HAPPY DAY]
[HAPPY DAY]
[HAPPY DAY]
[HAPPY DAY]
[HAPPY DAY]
[HAPPY DAY]
[HAPPY DAY]
[HAPPY DAY]
[HAPPY DAY]
[HAPPY DAY]
[HAPPY DAY]
[HAPPY DAY]
[HAPPY DAY]
[HAPPY DAY]
[HAPPY DAY]
[HAPPY DAY]
[HAPPY DAY]
[HAPPY DAY]
[HAPPY DAY]
[HAPPY DAY]
[HAPPY DAY]
[HAPPY DAY]
[HAPPY DAY]
[HAPPY DAY]
[HAPPY DAY]
[HAPPY DAY]
[HAPPY DAY]
[HAPPY DAY]
[HAPPY DAY]
[HAPPY DAY]
[HAPPY DAY]