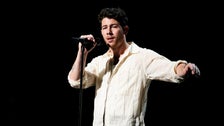 Jonas was backing Kelsea Ballerini on her song "Peter Pan" and had rehearsed, he said, for what seemed like "a million times." He said that he "felt very confident about it."
"I started, okay, and as I was walking up to her, I just went completely blank and played a wrong note and passed out, basically, and realized it was wrong and I couldn't stop," the "Jealous." said the singer.
"In retrospect, I can laugh at how big I thought it was. But she traveled more than she would have wanted, and it took me to go to therapy," she said.
"To this day and [after] hours after unpacking it i really cant figure out exactly what happened but i was rushed into a car and then onto a plane.
"And I looked at my manager and said, 'I think that was wrong.' She was in shock, sort of. And then it was like a really traumatic moment that shaped the pressure I put on myself to be perfect and always 'on.'
Jonas recalled other mishaps, such as forgetting the lyrics when he performed on Broadway in "Annie Get Your Gun" as a child, but called the CMA blunder "the worst moment ever."
Here's a longer look, starting at 1:32:30:

NEWHIYAH
NEWHIYAH
NEWHIYAH
NEWHIYAH
NEWHIYAH
NEWHIYAH
NEWHIYAH
NEWHIYAH
NEWHIYAH
NEWHIYAH
NEWHIYAH
NEWHIYAH
NEWHIYAH
NEWHIYAH
NEWHIYAH
NEWHIYAH
NEWHIYAH
NEWHIYAH
NEWHIYAH
NEWHIYAH
NEWHIYAH
NEWHIYAH
NEWHIYAH
NEWHIYAH
NEWHIYAH
NEWHIYAH
NEWHIYAH
NEWHIYAH
NEWHIYAH
NEWHIYAH
NEWHIYAH
NEWHIYAH
NEWHIYAH
NEWHIYAH