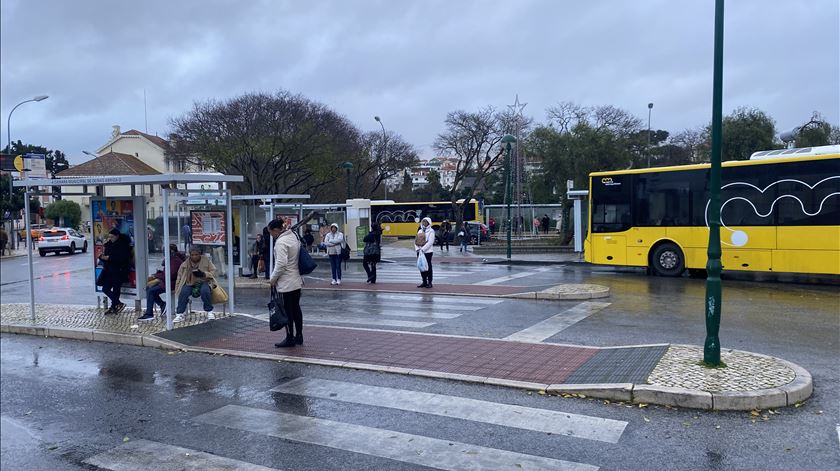 Another day at work for Carlos Fernandes, who arrives at the small square in front of the Oeiras train station, very early in the morning, to catch the bus back home after a night of work. The transport takes a long time to arrive.
"The service is terrible, schedules are not adhered to and careers are not made, many times".
On one of these weekends, when he worked, Carlos waited more than an hour to get home at night.
"I tried to catch one of the two-line buses, which left every half hour, according to the timetable posted at the stops. I waited over an hour and none came. I had to walk home".
He hasn't walked to work yet, but António Terêncio, another daily user, reveals that the experience "has not been very good".
"There are bus failures and disorganization on the routes. It got worse. At the moment, I think it's chaos", says this regular user, as he walks in the queue that has started to get on the bus that has just arrived. Before entering, he adds that "it is necessary to take into account the needs of users".
Another regular user complains of the same, who has been sheltered from the rain for more than half an hour, which does not stop falling at a nearby stop.
For a few months now, he has been leaving Queluz every day, arriving in Oeiras and taking a bus to São Domingos de Rana, where he works. Until the end of last year, I arrived there on time. But since the entry into operation of Carris Metropolitana, Iossik Albuquerque has been late. So many times that he fears he will lose his job.
"I'm afraid of losing my job, because I've been there for four months and every day there are delays. Half an hour, forty minutes, an hour. For me, that's absurd", he laments.
"There were ten buses parked and none wanted to leave. We complained to the drivers and they told us not to leave because they weren't on time."
Among many users, there is a clear lack of information about the new routes and timetables – all posted inside the stops, so that users can consult them. Teresa Dias has already visited at least four of the stops, to check the timetables. Use the bus in Oeiras just three days a month. She admits that she didn't even know about this new Carris Metropolitana. He admits that he didn't even know about the new Carris Metropolitana.
"No, I didn't. I took the other old buses and didn't know they had already been upgraded to this new company."
Consult the Carris Metropolitana application, where there is a route converter, to find out the current number of the old route. He consults the timetable and makes a decision: "I'm going to take a taxi. I've been here for 40 minutes". And there, you don't need at least 10 to pay the taxi fare, so you can reach your destination on time…
But not everyone is misinformed. But even those who are, like Patricia Castro, have reasons to complain.
"On the first day I came earlier, to find out about the stops, because I knew it was going to change. I've already caught drivers who were very nice, but who didn't know the routes. They don't stick to timetables. There are lots of buses stopped here, but they don't have drivers".
Transportes Metropolitanos de Lisboa admits corrections to improve the service
Contacted by Renascença, Transportes Metropolitanos de Lisboa, which manages public road transport in the Metropolitan Area of ​​Lisbon, reveals that it has been making daily adjustments and adjustments that are still not enough to considerably improve mobility for thousands of users.
Rui Lopo, administrator of Transportes Metropolitanos de Lisboa, guarantees that he will do everything to solve the problems identified and reported by regular users, through the available telephone lines or e-mails.
And he hopes that, by the end of the month, one of the main difficulties – getting drivers to work – will be alleviated… And he underlines that many of today's problems stem from unresolved problems in the past…
"Many of the situations that were unresolved in the past are now being considered as being a problem with the entry into operation of Carris Metropolitana. Whatever it is, as long as it serves to solve the problem for people, whatever it is", underlines Rui Lopo.
Other problems, on a very micro scale, are the need to adjust school timetables. And then, one of the main problems is the need for human resources. From drivers.
"From what we've been talking to the operators, these are issues that will tend to improve by the end of January", assures the administrator of Transportes Metropolitanos de Lisboa.
Rui Lopo asks that all problems detected by users be communicated, so that they can be improved.
"That they send us, as much as possible, the issues that they consider necessary to correct, so that within the scope of the contract that entered into force on January 1, we can give indications to the operator to correct them, and they will certainly be corrected".
​free nintendo eshop codes online generator2730
new locker codes6154
pdf 3r free coin master spins codes 6010
free playstation plus code generator no surveys1000
tiktok coins free 2023 deutsch2527
walmart gift card generator 2023 free9330
codes to get free games on nintendo eshop2190
missing vc 2k220066
pet master free spins links guide 20238377
free psn codes 2023 generator uk7991
how to recharge free tiktok coins4685
walmart gift card zero balance1468
free nintendo eshop codes discord5462
vc nba 2k22 reddit6653
pet master tours gratuits pour coins et spins liens quotidiens 7449
free psn card code generator online6182
free tiktok coins 20236440
download free walmart gift card0935
earn free nintendo eshop codes6334
2k22 locker codes season 37254
pet master free spins and rolls collect daily free rewards and 3530
psn code generator no human verification no survey1594
free tiktok coins hack ios7167
walmart free gift6189
free unused nintendo eshop codes switch no human verification 20231276
available myteam locker codes9942
pet master 400 spin link in 2023 pinterest4108
free psn plus code generator6399
free tiktok coins online1653
how to get balance on walmart gift card0227