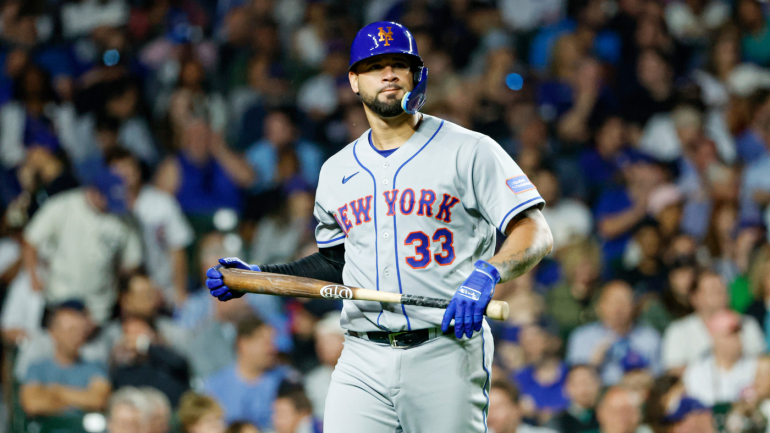 USA TSI
He New York Mets altered his receiving depth chart before Thursday's game against the chicago cubs, activating Tomás Nido from the disabled list and designating Gary Sánchez for loan. Arguably the most notable aspect of these transactions is that they ensure that young people Francisco Alvarez it will remain part of the major league roster.
Nido, 29, has been sidelined since early May due to vision problems related to dry eye syndrome which he believes developed as a complication of his previous LASIK eye surgery. He underwent a procedure that helps his eyes stay lubricated. "It's like he relieved the eye pressure that he had," Nido told reporters last week. including MLB.com. "I felt like someone was pushing my head. I had a headache for 72 hours straight."
Nido had appeared in 19 games before being placed on the shelf, hitting .118/.148/.118 (minus-24 OPS+) with no home runs or extra-base hits. He's never been much of an offensive threat, but it's fair to think that his poor vision affected his ability to deal damage.
Sanchez, 30, appeared in just three games with the Mets. He went 1 for 6 with one RBI and zero extra-base hits. He joined the organization in early May after being released by the San Francisco Giants. It's unclear if he'll find another job in the big leagues or accept a minor league assignment.
Alvarez, 21, has hit .253/.316/.506 (124 OPS+) with six home runs in 95 plate appearances. He entered the season ranked by CBS Sports as the No. 3 prospect in the minors.. Álvarez appears to remain the starter with more days, as veteran Omar Narváez is unavailable after suffering a calf injury in April.
The Mets will enter Thursday night's game with a 25-25 record on the season.