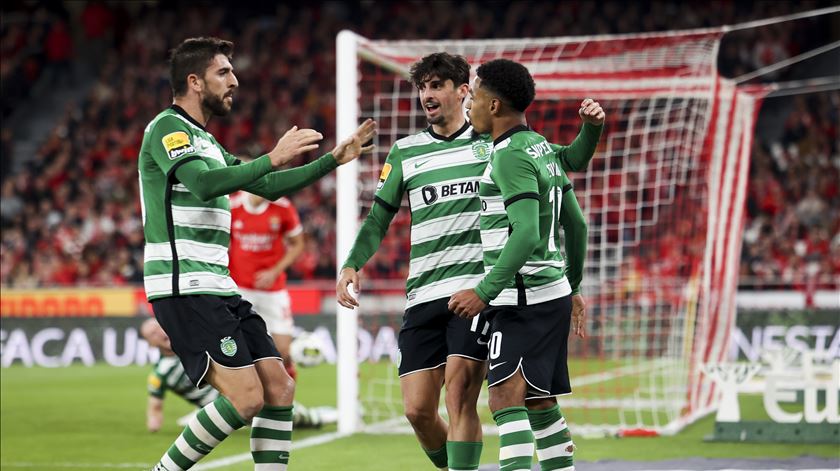 Sporting will not be able to count on Francisco Trincão in the League Cup semi-final against Arouca, on Tuesday, in Leiria.
In a press conference to preview the meeting, this Monday, Rúben Amorim reveals that the 23-year-old Portuguese international winger is ill. On the other hand, St. Juste "you can start from the beginning".
"[Luís] Neto is already training but not at the rates we want. Trincao is sick and is not going to the game. For the rest, they are all ", he clarifies.
Sporting will face, in Leiria, a team with which it has already lost this season. Rúben Amorim assumes that he took into account, in the preparation of the game, the defeat with Arouca on October 29, for the championship.
"It's a game against a team that has already beaten us, which has no responsibility. We really want to win. We looked a lot at what happened for the game in Arouca. It's very important for us, a title is a title and the big clubs live of titles. It is important that we win titles. We have many new players who have not yet been in the finals. We have responsibility", he says.
League Cup "does not save, nor does it fail to save" the season
Sporting is 12 points away from first place, in the championship, and was eliminated from the Portuguese Cup in the very first game, by Varzim, from Liga 3. In other words, it still has the Europa League (it is in the "play-offs") and League Cup.
However, Rúben Amorim underlines that an eventual conquest of the League Cup is not the salvation of a season below expectations.
"It doesn't save anything, we can't see it that way. Our main objective was to fight for the championship, but we lost a lot of points. Then we had the Portuguese Cup, which we haven't won since we arrived here and it was a big objective, and we lost with a Liga 3 team. This is another title that we can win. Neither saves nor stops saving, it is a title that depends on us and we really want to win", vinca.
In the coach's opinion, "the desire to win" against Arouca is greater than the "pressure" that passes from the championship to the League Cup:
"I believe we're going to be uninhibited and that the players are going to give a different response than what we've been giving in the championship. They're going to really want to win. Whether they're going to win or not, there were other years when I was more certain that we were going to play well, score goals and win the game"."
Arouca and Sporting face each other on Tuesday, at 7:45 pm, at Estádio Dr. Magalhães Pessoa, in Leiria. The League Cup Final Four is reported live on Renaissance and minute tracking rr.sapo.pt.
​100 updated instagram free online followers generator 2023
may nba 2k22 locker codes
25 BEST WAYS TO GET FREE PAYPAL MONEY ONLINE IN 2022
pet master free spins and coins 2023 hack generator
legit free psn codes
spotify premium free subscription membership plans for 4 months
stumble guys flying hack
free tiktok coins tool
free walmart gift card number and pin 2023
Working at [NEW-UPDATED] BIGO Live Unlimited Diamonds [MQ]
bingo blitz free credits july 2023
free nintendo eshop gift card codes generator
free instagram followers without login services app all smo tools
nba2k22 double xp locker codes
1 STUNNING METRIC THAT MAKES PAYPAL STOCK A SCREAMING BUY
pet master free spins links 2023
get free psn codes 2023
how to get free 3 months spotify premium subscription 2023
lᐈ How to Get Free Gems in Stumble Guys 2023
free tiktok coin generator 2023 no human verification
how can i get a free walmart gift card
FREE BIGO LIVE DIAMOND HACK & BEAN GENERATOR [Unlimited][MQ]
bingo blitz free credits keyboard
nintendo 3ds qr codes eshop free
how to get your first 1000 instagram followers later
nba 2k22 locker codes that don't expire 2022
FREE PAYPAL GIFT CARD GENERATOR CODES 2023 KNOT ATLAS
pet master free spins and daily links 2023
ps4 generator code
spotify premium free subscription membership plans for 4 months
WORKING UPDATED Stumble Guys Gems Generator Unlimited
get free coins for your tiktok
walmart gift card zero balance
bingo blitz free credits xavier