Key events
Dustin Johnson leaves his chip up from the side of 6 well short. He can't make the long bogey put he's left himself, and that's a costly double bogey. Can't remember who on the Sky commentary said DJ was playing some stuff comparable with his 2020 peak; that may well be true, but he's also throwing in a fair share of the slapstick-infused nonsense he used to regularly serve up during the 2010-2015 meltdown years. He's level par overall, which seems about right given that mix of styles.
The sensational club pro Michael Block speaks to Sky. "I've got the best job in the world … to be here at Oak Hill and to make the cut is an amazing thing … the Rochester folks have been amazing every day … [making the cut] has been the last goal in my golf career and I'm excited about that … my game's actually pretty good … I think I can compete and have a nice finish and make my wife happy!"
Phil Mickelson fancies sticking around for the weekend. Draining a tramliner on 5 for a birdie that takes him back to +3 is therefore just the ticket. The gallery enjoyed that.
Patrick Cantlay is having the best round of the morning wave. He's now four under today after making birdie at the par-five 4th. All the pain of yesterday's 74 now erased, and he's back to level par. Meanwhile up on 6, DJ does his level best to replicate Max Homa's farcical progress up the hole, but having found water with his tee shot, can't quite pull his third enough to reach the creek on the other side. Instead the ball stops short in the thick rough. A tricky up and down coming up for bogey, though.
Max Homa sets about making an enormous balls of the monster par-four 6th. He sends his tee shot into the drink down the right, then having dropped, sends his third into the creek on the left. Having popped down a new ball for the second time in short order, he gets up and down for a double-bogey six. As Rich Beem points out on Sky, "he only hit it four times." He's +2. Meanwhile back on the tee, Dustin Johnson sends a wild slice into the water on the right. Tom Kim got away lightly on this hole yesterday by comparison.
Dustin Johnson sends his tee shot at the par-three 5th into the heart of the green … then curls in a left-to-right swinger from 20 feet for birdie. He modestly raises his putter in celebration well before it drops, knowing he's made the perfect roll. He moves back to -2.
Another outrageously bad drive by Justin Rose, this time into a bunker down the right of 2. He can't reach the green from there … but takes his medicine again, then gets up and down from 70-odd yards again! Another outrageously good scramble, then. But he can't keep carrying on like this. At some point, his Seve-esque wildness off the tee will surely catch up with him. But he remains at -3 for now.
Club pro Michael Block makes the weekend
Xander Schauffele bounces back from that ugly double at 3 with birdie at the par-five 4th. He's +4. Taylor Pendrith bogeys his last hole – the 9th – as a result of a wayward drive and a weak chip in. But that's a second-round 69 for the 31-year-old Canadian, who is -1 for the tournament. And a sandy par for his playing partner Michael Block, who cards his second 70 of the week. At level par, the 46-year-old club pro will qualify for the weekend with ease and hopefully, the way he's playing, earn himself a tidy sum while doing so. He throws his arms wide open in celebration, and gets the ovation from the gallery he deserves. A few selfies too! The celebrity life.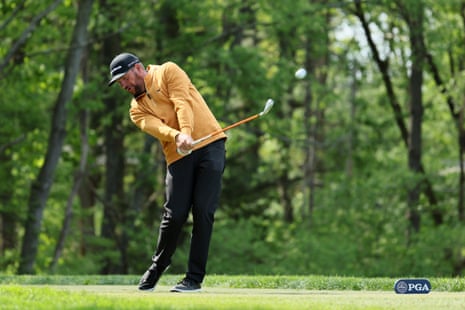 News of The Internet's Tom Kim. After starting out with bogeys at 1 and 5, followed by a double at 7, he looked to have potentially salvaged the situation with birdies at 8 and 10. But three bogeys in the next four holes, at 11, 12 and 14, look to have done for the 20-year-old South Korean. He's currently +8, and while the projected cut is expected to move significantly out from its current position at +4, Kim has plenty of work to do if he's to hang around for the weekend. Ah well, he'll always have Allens Creek.
Justin Rose rolls the par putt at 1 into the cup and that's a fine save. He walks off smiling, having avoided the fate of consecutive bogeys. He remains one off the lead at -3.
Trouble for Justin Rose on 1. He's been all over the shop with his driver today, and he sends another one miles right here. Snookered behind a tree, he's forced to chip out, but at least gives himself chance to salvage par by sending a dart to six feet. News when we have it. Meanwhile birdies for Max Homa on 4 (back to level par) and Keith Mitchell on 15 (to return to -1).
DJ does pretty darn well to hold the green with his post-shank wedge at 3. His ball threatens to topple off the false front and back down the hole, but it stops on the fringe. He's left with a 45-foot putt that he sends five feet past. He tidies up to limit the damage to bogey and slips back to -1. Meanwhile his playing partner Xander Schauffele takes two to get out of the deep bunker guarding the front and ends up running up double. He's +3 all of a sudden … and he really doesn't like these opening holes, does he? That's now seven shots dropped on holes 1, 2 and 3 during the first two rounds.
Mito Pereira will always remember his 72nd-hole heartbreak at Southern Hills last year. So near and yet so far. But the 28-year-old Chilean seems determined not to let the memory become a burden, and after yesterday's 72, is making a fine run up the leaderboard. Birdies at 13, 15 and now 1 take him into credit at -1.
"Shanked it!" Anything Michael Block can do, DJ can do better, and he sends his tee shot at the par-three 3rd straight right. Meanwhile here's Taylor Pendrith, backing up Corey Conners' Canadian charge; the 31-year-old from Ontario is making his PGA Championship debut and has just drained a 40-footer on 7 for his third birdie of the front nine, following shots picked up at 1 and 3. And finally Justin Rose falls out of a share of the lead, the result of his drive finding thick rough down 18.
-4: DeChambeau
-3: Rose (9*), Scheffler, Conners
-2: Pendrith (16*), Scott (12*), D Johnson (11*), Fox, Hovland, Bradley
Michael Block can't make his birdie on 6, but that's a par he'd have eagerly snaffled with both hands after the events of 5. He remains at level par. Meanwhile another dropped shot for Max Homa, the result of a duffed chip at 3; he's +1. But Dustin Johnson starts turning things around with a fine shot into the heart of 2 and a 12-footer rolled into the cup for birdie. He returns to -2.
To illustrate just how hard Oak Hill is playing this week, here comes Sam Burns. The 26-year-old from Louisiana has already won five times on tour, including this year's World Match Play. He's also got a second-place finish at the WGC Invitational on his résumé (2019) plus four top-ten finishes on Tour this season. In short, Burns is the real deal … and today, right now, he's +10 for his round through 11 holes. Two triple bogeys, at 2 and 4, followed by double bogey at 6 tend to scramble the mind. He's +14 overall and won't be here for the weekend, during which he can lick his wounds. Burns hasn't figured in a major championship yet, but his time will surely come. Not this week, though.
A fine par save for Justin Rose at 17. He hits a fine drive down the track, but the camber of the fairway takes his ball into the rough to the left. His second tips over the back of the green, but he bumps to four feet and tidies up … no mean feat given the yip of yesterday. He remains at -7 alongside Bryson DeChambeau at the top.
Sepp Straka yips from 18 inches on 13. He drops a shot and slips back to level par. You can't be handing shots back to the field like that … but then again, Justin Rose missed one from similar distance yesterday afternoon, and look where he is now. You can recover. Speaking of recoveries, Michael Block, coming off the back of that shanktastic shambles at 5, creams two shots straight up the lengthy par-four 6th and into the heart of the green in comfortable regulation. He'll have a look at birdie from 15 feet on the hardest hole on the course. He smiles warmly, having just tasted the distilled tincture of golf in its purest form.
Justin Rose rails in a 30-footer on 16 to join Bryson DeChambeau in the lead! Meanwhile a double for the overnight leader Eric Cole, having gotten wet at 6. He's back to level par and having a stinker of a day. Time for a leaderboard update, then.
-4: Rose (7*), DeChambeau
-3: Conners, Scheffler
-2: Davis (14*), Scott (9*), Bradley, Hovland, Fox
-1: Pendrith (14*), Mitchell (12), Straka (12), D Johnson (9*), Suh
Let's lift the mood with news of Tyrrell Hatton. He makes his third birdie of the morning, this time at 18, and he's played the back nine in 32. He's still +4, but the wind continues to pick up and it's not going to get any easier for the later starters, so if he can pick up one or two more, he'll be back within striking distance ahead of Moving Day.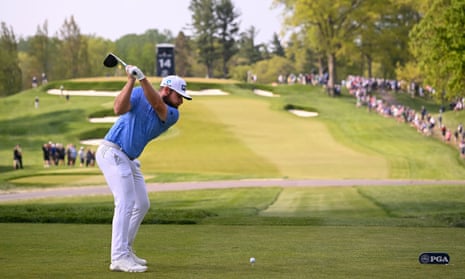 Uh-oh. Nobody wants to use that word, especially not when we're reporting on one of the PGA Team of 20. But poor Michael Block – who let's remember as a 46-year-old club pro has been beyond brilliant this week – has just hit a full shank straight right at the par-three 5th … and almost certainly out of bounds. But hold on! Has the ball hit a tree? A house over the fence?! Because it's come back into the thick rough just beyond the front tee. What a huge break … though with the nerves now clattering, he can only send his second into a bunker front left. At least he didn't leave it short in more rough. But he's still short-sided, and can only splash out to 15 feet. He'll have that for bogey. He can't make it, and it's a double that crashes him back to level par. He's played the last two holes 6-5, dropping three shots in the process, and has the hardest hole on the course coming up, the 503-yard par-four named Double Trouble. Godspeed.
A big chance for Max Homa to get back into credit on 18. He swishes a lovely approach from 150 yards pin high to seven feet, and the remaining putt is fairly straight. But he lets it slide by the right of the cup and remains at level par for the tournament. Meanwhile up on 4, Michael Block pushes a wedge into the bunker to the right of the green, taking on the pin tucked away on that side. Left short-sided, he can't get up and down, and that's a bogey six on the hole that yesterday was playing easiest of the lot. The PGA club pro drops back to -2.
… and it's back-to-back bogeys for Dustin Johnson too. He can only hack a wild drive on 17 back into the fairway, and though he nearly salvages the situation by wedging his third to seven feet, the following putt's pulled and all of a sudden he's back in the pack at -1.
It's consecutive bogeys for Max Homa. This latest one, at 17, is the result of coming up short with his approach and ending up in the bunker guarding the front of the green. In truth he did pretty well to get down in three from where he'd found himself. But he's back to level par … and he's still only carded one par this morning. Four birdies and three bogeys!
One heck of an up and down by Michael Block at the par-three 3rd. He sails his tee shot over the green and down the back of a hill covered in filthy rough. But he swishes up to six feet, and tidies up to save his par and remain at -3. Dustin Johnson won't be staying there, though, after getting too aggressive in going straight at the flag on 16. His ball takes one bounce left and scuttles off down a huge swale like a mouse with some cheese in its slavering maw. He can only chip back up to 20 feet, and that's a bogey that drops him back to -2.
Tommy Fleetwood finished fifth last year, thanks to a late Sunday Southern Hills birdie blitz that whisked him from +1 to -3 between 14 and 17. Having shot 72 yesterday and bogeyed 12 this morning, he could do with something similar this week, at some point. Perhaps trundling in a chip from the front of 17 for birdie will spark something. He's +2, and in even better news for Southport's finest, Everton are almost certainly staying up this season, aren't they?
They pick them up, they hand them back. That's Oak Hill in the wind for you. Bogeys for Max Homa and Adam Scott at 16; they slip to -1 and -2 respectively. Meanwhile back on 15, Patrick Cantlay is very fortunate to get away with dropping just one stroke: having sent his tee shot at the short par-three wide left, he hits a hot chip through the green, and it looks to be heading down a swale, from where he'd be short-sided. But there's enough grass on the bank to stop it rolling down too far, and though he hits a distinctly average chip back past the flag, he rolls in the four-footer he leaves himself for bogey. He's +2.
Patrick Cantlay went into the tournament as fourth favourite, if memory serves … so don't quote me, but y'know. His odds will have lengthened considerably after yesterday's 74, but he's fixing a lot of the damage today, starting out with birdies at 10, 12 and now 14. He's back to +1, while Xander Schauffele's similar (and aforementioned) tournament trajectory continues apace: birdie at 15 to follow his earlier one at 13, and he's level par, just four off the lead. A reminder that he was four over after the first three holes yesterday. Could a similar narrative to Jon Rahm's opening four-putt double at the Masters be developing?
Another birdie for Adam Scott! He clips his tee shot pin high to eight feet, and in goes the putt. His playing partner Max Homa pops one in too, and that's his fourth in five holes. They're -3 and -2 respectively. Scott sits alongside Michael Block, who birdies 1, and Justin Rose, who rakes in a long one across 12. It, to borrow a quote from Billy Liar's favourite comic Danny Boon, is all happening.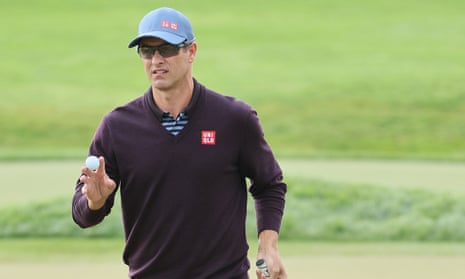 -4: DeChambeau
-3: Block (10*), Scott (6*), D Johnson (5*), Rose (3*), Conners, Scheffler
Eric Cole continues where he left off earlier this morning: heading in the wrong direction. An opening bogey at 1 and the overnight leader drops to -2. Problems also for Thomas Pieters, who bogeys 6 and 7 to undo all of his good work today. He's back where he started at -1.
Bounce-back birdies at 14 for Adam Scott (-2) and Max Homa (-1). Then coming behind, Tyrrell Hatton, who is doing a decent job of repairing some of the damage from yesterday's 77. Having opened with birdie at 10, he makes a second of the day here, albeit in unconventional fashion: his wedge in spins back into the thick fringe, but then he bumps and releases from 30 feet straight into the cup. He's +5. Par for DJ.
The wind has picked up. So much so that DJ, who can usually reach the bunkers in front of the short par-four 14th with ease, ends up 60 yards short of them. It's swirling as well. So what will be going through Tom Kim's mind as he tees it up on 6, where yesterday he ended up covered cap to boots in mud? Especially as he's decked head to toe today in pristine white duds?! Serenity, is what. He lashes it down the middle and saunters off insouciantly. He is however currently +5, a couple outside the current projected cut of +3 … but the mood music suggests that cut will move out by at least a couple of shots, maybe even three or four, as the wind does its thing.
Dustin Johnson's had an unfortunate start. Three straight pars, but a lip-out for birdie at 10 and a shave of the left-hand edge from 25 feet at 12. Somewhere in the multiverse, he's got a couple of birdies to his name already today. He'll keep on keepin' on. He's -3. Meanwhile Xander Schauffele tickles in a downhill 12-footer for birdie at 13, and the major-championship nearly man rises to +1. Had he not started bogey/double/bogey yesterday, he'd be one off the lead. But he's still very much in it.
Yep, bogeys as expected for Adam Scott and Max Homa on 13. They're back to -1 and level par respectively. An opening birdie for Justin Rose at 10; he's -2. Meanwhile it's been a typically spectacular start to the day for Phil Mickelson. A drive as wide left as it was long on 10 leading to a bogey; a chip flown over the green at 12 that somehow span back from out of the thick rough to eight feet, from where he makes birdie. The great man remains at +3 … just above the current projected cut line, for what that's worth right now.
Scott takes his medicine and doesn't try to get too cute with his chip. In thick rough and with a severe downhill lie, he aims for the heart of the green rather than the closer flagstick. He'll be left with a 25-footer to salvage his par. Homa has a bit more green to play with, and a less severe lie, and chips out to 12 feet. Both about the best they could do. Both will most likely drop a a stroke. Block meanwhile can't make his 35-footer on 17 and drops back to -2.
A couple of big tests coming up for Adam Scott (-2) and Max Homa (-1) on the monster par-five 13th. Scott sends a dreadful approach up a grassy bank to the right of the green, while Homa flies the dancefloor and ends up in cabbage behind it. The best of luck … which we also extend to club pro Michael Block, whose second into 17 ends up in the filth down the right of the hole. He manages to muscle his third onto the front of the green, but he'll have to make a long putt to keep his card clean.
A backwards step for Hayden Buckley at 16, where a weak chip up costs him a shot. He's only made one par today, at his opening hole, the 10th. Adam Scott meanwhile has opened with three pars, at 10, 11 and 12, though he's come close with a couple of birdie efforts. Perhaps wisely not pushing too hard to repair the painful damage of that closing double bogey last night, rushing to finish as the sun went down. The 2013 Masters champion remains at -2 overall.
Thomas Pieters joins the group in a tie for second. He finds the long par-five 4th in two big booms, only to leave a long eagle putt a worrying five feet short. But he knocks in the birdie effort and moves to -3. Meanwhile back-to-back birdies for Max Homa at 11 and 12, and one of the pre-tournament hipsters' choices moves into red figures at -1. Less than an hour into the second round, and things are bubbling up nicely already.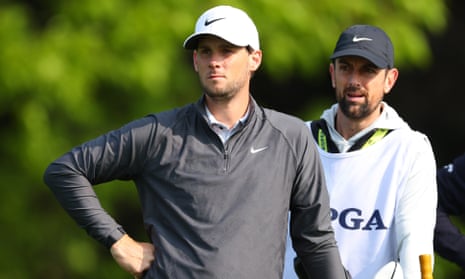 Hayden Buckley has only played in one major championship before. The 27-year-old from Chattanooga, Tennessee did pretty well in it: a tie for 14th at last year's US Open. He's had a couple of fine recent finishes too: a top-ten finish at the Texas Open and a tie for fifth at the RBC Heritage. He appears to be taking that good form into the PGA. A 69 yesterday, and after a slow start today with bogeys at 11 and 12, he's responded with three straight birdies between 13 and 15. He's -2 overall.
The Michael Block party continues. One of the 'PGA Team of 20' club professionals in the field this week, the 46-year-old is taming the Oak Hill tiger right now. He calmly bangs his tee shot at the short par-four 14th down the middle, chips to eight feet, and tidies up for his third birdie of the morning. He's a shot off the lead! Meanwhile opening par for DJ, whose 12-foot birdie putt on 10 lips out on the right. So close to a share.
-4: DeChambeau
-3: Block (5*), D Johnson (1*), Cole, Conners, Scheffler
-2: Davis (6*), Pieters (3), Mitchell (3), Bradley, Hovland, Fox
Thomas Pieters made it back to the clubhouse yesterday evening propelled by parps of the purest ear-steam. The occasionally hot-headed Belgian was going along nicely at -3 with three holes to play, only to drop strokes at 7 and 9 with a face on. But presumably he's got things into proportion since – he'd surely have taken an opening round of 69 given his early LIV travails – and he's come out today with a fresh spring in the step and a birdie at 3. He's -2.
Cam Davis has no record in the majors to speak of, but he did finish tied for sixth at the Players this year. The 28-year-old Aussie followed that up with a tie for seventh at the recent RBC Heritage, just four off the eventual winner Matt Fitzpatrick, and he's making his move here today. A 71 yesterday, and now three consecutive birdies at 13, 14 and 15. He's -2.
Tom Kim's all-out bid to top up his social-media bonus last night may have taken a toll. An opening bogey at 1 and he slips to +4. But it's an opening birdie for Tony Finau at 10. If ever there's a man trending in the right direction, it's the big 33-year-old from Salt Lake City, Utah. Having gone out in 41 strokes yesterday, he responded to that nightmare by coming back in 31. There's no point wasting such card-salvaging brilliance, and today's fast start brings him up to +1. Plenty will have written him off yesterday. Ahem. Now look!
So here's where we are right now at the very top of the leaderboard. Keith Mitchell – currently the world number one in total driving (distance plus accuracy) – has birdied 2 to get seriously involved here. You know what, that total driving malarkey could well stand him in good stead around this US Open-esque track. Especially when the wind gets up later. Anyway, all caught up, pretty much. [wipes brow histrionically]
-4: DeChambeau
-3: Scheffler, Conners, D Johnson, Cole
-2: Block (4*), Mitchell (2), Bradley, Hovland, Fox, Scott
-1: Straka (3), Pieters (2), Rose, Suh
A 46-year-old club pro is making a big move this morning. Michael Block is playing in his fifth PGA Championship – he's also teed it up at two US Opens – as a busman's holiday from his day job at Arroyo Trabuco Golf Club in Mission Viejo, California. He shot a fine 70 yesterday, coming back with birdies at 12, 13 and 16, and he's on a similar roll this morning. Birdies at 10 and 12, and he moves to -2, just two off Bryson DeChambeau's lead.
An up-and-down early start for Justin Rose. He made a three-putt bogey on 16, but bounced back with a chip-in at the last to sign for a 69. But Phil Mickelson wasn't so adroit around 18, and a chunked chip led to a double bogey and a round of 73.
The 6th hole claimed Tom Kim as a victim in the gloaming yesterday; it's claimed the overnight leader Eric Cole at the break of dawn. Cole had crashed his tee shot at 6 down the middle last night, then opted to mark his ball when the horn went to end the day's play. He might wish he'd gone on to complete the hole, as was his right, because his first shot this morning was a big pull into Allens Creek. That led to a double-bogey six. He gamely parred his way home after that, though, and signs for a three-under 67.
Yesterday didn't go exactly to plan – certainly not for the eminently entertaining golfer-cum-explorer Tom Kim – but it looks as though the 105th PGA Championship is back on track after yesterday's frost delay. A few players, including the surprise overnight leader Eric Cole, still have a few holes of their first rounds left to play, but they'll have to suck up a quick turnaround for the second round, which looks like going ahead as scheduled. Here's what the top of the leaderboard looked like at sunset yesterday …
-5: Cole (14*)
-4: DeChambeau (F)
-3: Scheffler (F), Conners (F), D Johnson (F)
-2: Fox (F), Hovland (F), Bradley (F), Scott (F)
… and here are today's tee times. All the latest coming right up. It's on!
Starting from the 1st (all times BST) …
12pm: Sam Ryder, Gabe Reynolds, Brandon Wu
12.11pm: Sadom Kaewkanjana, Ben Kern, Thorbjorn Olesen
12.22pm: Webb Simpson, YE Yang, Danny Willett
12.33pm: Sepp Straka, Harris English, Robert MacIntyre
12.44pm: Thomas Pieters, Keith Mitchell, Pablo Larrazabal
12.55pm: Lucas Herbert, Brian Harman, Callum Shinkwin
1.06pm: Tom Kim, Sam Burns, Abraham Ancer
1.17pm: Im Sung-jae, Chris Kirk, Seamus Power
1.28pm: Kim Si-woo, Stephan Jaeger, Anirban Lahiri
1.39pm: Victor Perez, Aaron Wise, Jordan Smith
1.50pm: Chris Sanger, JJ Spaun, David Micheluzzi
2.01pm: Thomas Detry, JJ Killeen, Matt Wallace
2.12pm: Nick Hardy, Gary Koch, Eric Cole
5.30pm: Trey Mullinax, Josh Speight, Kazuki Higa
5.41pm: Adam Schenk, Colin Inglis, Thriston Lawrence
5.52pm: Min Woo Lee, Andrew Putnam, Emiliano Grillo
6.03pm: Harold Varner III, Scott Stallings, Nicolai Hojgaard
6.14pm: Steve Holmes, Adrian Otaegui, Davis Riley
6.25pm: Scottie Scheffler, Brooks Koepka, Gary Woodland
6.36pm: Rory McIlroy, Justin Thomas, Collin Morikawa
6.47pm: Jordan Spieth, Shane Lowry, Viktor Hovland
6.58pm: Jon Rahm, Matt Fitzpatrick, Cameron Smith
7.09pm: Luke Donald, Adrian Meronk, Yannik Paul
7.20pm: Kenny Pigman, Davis Thompson, Maverick McNealy
7.31pm: Keegan Bradley, Jason Day, Bryson DeChambeau
7.42pm: Jesse Droemer, Matt NeSmith, Rikuya Hoshino
… and from the 10th …
12.05pm: Matt Cahill, Taylor Montgomery, Cam Davis
12.16pm: Michael Block, Hayden Buckley, Taylor Pendrith
12.27pm: Alex Beach, Brendon Todd, Sihwan Kim
12.38pm: Patrick Reed, Rasmus Hojgaard, Nick Taylor
12.49pm: Christiaan Bezuidenhout, John Somers, Chez Reavie
1pm: Tommy Fleetwood, Cameron Young, Hideki Matsuyama
1.11pm: Adam Scott, Max Homa, Tony Finau
1.22pm: Xander Schauffele, Tyrrell Hatton, Dustin Johnson
1.33pm: Patrick Cantlay, Rickie Fowler, Phil Mickelson
1.44pm: Alex Smalley, Russell Henley, Mito Pereira
1.55pm: Adam Hadwin, Matt Kuchar, Talor Gooch
2.06pm: Justin Rose, Billy Horschel, Francesco Molinari
2.17pm: Russell Grove, Patrick Rodgers, Ben Taylor
5.25pm: Shaun Micheel, Braden Shattuck, Steven Alker
5.36pm: Ben Griffin, Chris French, Joel Dahmen
5.47pm: Wyatt Worthington II, Nico Echavarria, Wyndham Clark
5.58pm: Tom Hoge, Ryan Fox, KH Lee
6.09pm: Paul Casey, Adam Svensson, Beau Hossler
6.20pm: Zach Johnson, Kurt Kitayama, Sahith Theegala
6.31pm: Corey Conners, Ockie Strydom, Joaquin Niemann
6.42pm: Kevin Kisner, Jimmy Walker, Padraig Harrington
6.53pm: Alex Noren, JT Poston, Mackenzie Hughes
7.04pm: Lee Hodges, Callum Tarren, David Lingmerth
7.15pm: Taylor Moore, Denny McCarthy, Brendan Steele
7.26pm: Jeremy Wells, Justin Suh, Adri Arnaus
7.37pm: Anthony Cordes, Mark Hubbard, Dean Burmester

[best htlock]
[best htlock]
[best htlock]
[best htlock]
[best htlock]
[best htlock]
[best htlock]
[best htlock]
[best htlock]
[best htlock]
[best htlock]
[best htlock]
[best htlock]
[best htlock]
[best htlock]
[best htlock]
[best htlock]
[best htlock]
[best htlock]
[best htlock]
[best htlock]
[best htlock]
[best htlock]
[best htlock]
[best htlock]
[best htlock]
[best htlock]
[best htlock]
[best htlock]
[best htlock]
[best htlock]
[best htlock]
[best htlock]
[best htlock]
[best htlock]